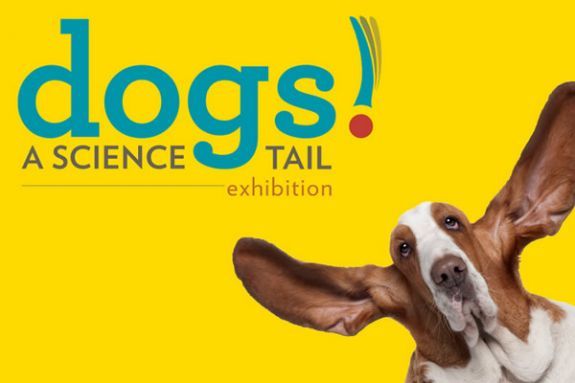 Let curiosity be your guide, and discover life from a dog's point of view in Dogs! A Science Tail, the Museum's newest exhibition. Experience the extraordinary way dogs see, smell, and hear the world. Admission is included with an Exhibit Halls ticket.
Sniff out the science behind our puppy love at the Museum of Science! Let curiosity be your guide and discover life from a dog's point of view in Dogs! A Science Tail, a richly interactive exhibition for humans. Experience the extraordinary way a dog sees, hears, and smells the world through fun and unique hands-on activities and uncover the science of our enduring bond.
From lovable companions to loyal protectors, dogs have evolved over thousands of years from ancient wolves into the cuddly canines that live and work alongside us today. They can rescue us from peril, provide help to people in need, or offer a furry shoulder to lean on. Dig deeper into these incredible animals and how they communicate with each other — and with us!
Explore how science is helping us better understand our tail wagging companions and what makes our relationship one of the most successful interspecies partnerships of all time. Train a virtual dog to heed your commands and unearth replica fossils of wolves and dogs to reveal their surprising similarities. You'll also enjoy walking an invisible dog through a neighborhood maze, playing a special game of "pup culture" Jeopardy, and exploring the various careers that involve these intelligent animals. Be sure to record your own story of a special dog and proudly share your puppy pictures in the exhibition photo gallery.
Don't miss this chance to discover how dogs have nuzzled their way into human society and into our hearts to become our loyal sidekicks and life-saving heroes. You'll never look at dogs the same way again!
This exhibit was created and developed by the California Science Center with support from Annenberg Foundation and Wallis Annenberg PetSpace. PetSmart Charities is sponsoring the national tour.
About the Museum of Science, Boston
One of the world's largest science centers and New England's most attended cultural institution, the Museum of Science introduces approximately 1.5M visitors a year to STEM (science, technology, engineering, and math), through the world-class hands-on exhibits, programs and curricula of its William and Charlotte Bloomberg Science Education Center. Established in 1830, the Museum is home to such iconic exhibits as the Thompson Theater of Electricity, the Charles Hayden Planetarium, and the Mugar Omni Theater. Beyond its walls, the Museum reaches tens of millions more through award-winning STEM content such as its blockbuster traveling exhibits, The Science Behind Pixar and Star Wars: Where Science Meets Imagination, the world's leading prek-8 engineering curricula, EiE®, and originally created, globally distributed planetarium shows. The Museum influences formal and informal STEM education through research and national advocacy, as a strong community partner and loyal educator resource, and as a leader in universal design, developing exhibits and programming accessible to all. Learn more at https://www.mos.org
When:
Temporary Exhibit Opens February 9, 2020