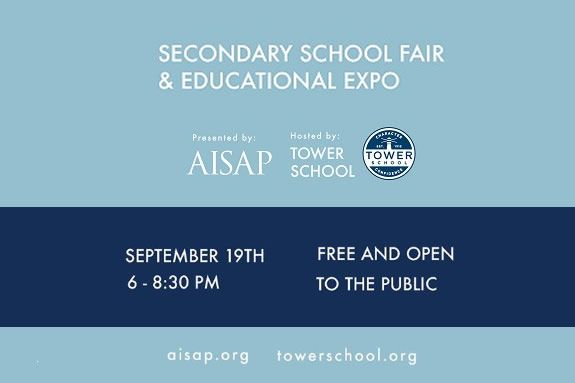 Tower School invites parents to attend the North Shore Secondary School Fair & Educational Expo, held on its campus, Monday, September 19, 2016, from 6:00-8:30 pm. Admission Directors from 97 Independent Secondary Schools will be in attendance, as well as representatives from AISAP (Association of Independent School Admission Professionals). AISAP will offer expert-led breakout sessions on testing, financial aid, scholarships and other key topics.
This event is free, and open to the public. For more information, contact Mary Dailey, Director of Enrollment and Secondary School Placement, at mary.dailey@towerschool.org.
The North Shore Secondary School Fair & Educational Expo at Tower School in Marblehead, is an opportunity for families and students to meet with representatives from private schools, including day schools in the Boston area and boarding schools around New England. If you are considering the possibility of an independent school for your child for the Fall of 2017, now is the time to start looking. Attend and use this unique opportunity to meet with a number of schools under the same roof, meet representatives and gather information from boarding and day schools in New England and beyond.
All families interested in independent secondary schools are welcome and encouraged to attend this free event.
Academy at Penguin Hall
Berwick Academy, ME
Brewster Academy, NH
Cambridge School of Weston
Cheshire Academy, CT
Commonwealth School
Darrow School
Fryburg Academy
Governer's Academy
Gunnery School
Hebron Academy, ME
Hotchkiss School
Kent School, CT
Leman Manhattan Preparatory School
Marianapolis Preparatory School
Newman School
Peddie School, NJ
Phillips Andover Academy (Andover)
Pomfret School, CT
Proctor Academy, NH
Putney School
Ridley College
Salisbury School, CT
Shady Side Academy
South Kent School
St. Timothy's School
Stoney Brook School
Suffeld Academy, CT
Thacher School, CA
Tilton School, NH
Vermont Academy, VT
Westover School, CT
Co-sponsored by the following North Shore Independent Elementary and Middle Schools:
When:
Monday, September 19, 2016, from 6:00-8:30 pm