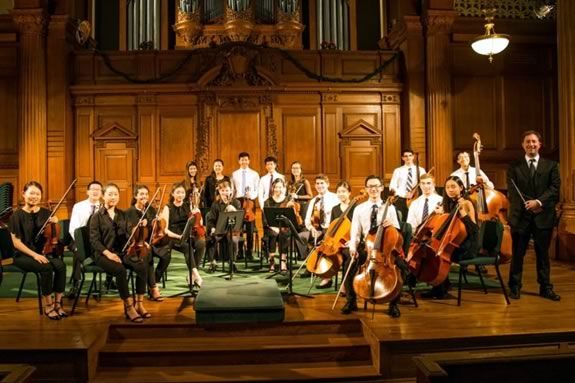 the Chamber Orchestras of Phillips Academy will present a concert in Cochran Chapel on the Phillips Academy campus.  The Amadeus Chamber Orchestra, under the direction of Elizabeth Aureden and Christina Landolt, will perform Ralph Vaughan Williams' "Charterhouse Suite," a suite of dances in the English style originally written for piano but orchestrated by James Brown in collaboration with the composer. 
The Academy Chamber Orchestra, led by Derek Jacoby, will perform Schubert's "Symphony No. 5 in B-flat Major" and movements from Elgar's "Cello Concerto, Op. 85," with soloist Christina Cho '19. The Academy Chamber Orchestra will also perform a work commissioned for this concert, "Vox Crescens" for string orchestra by Brett Keüper Abigaña.  Abigaña is music director at BU Academy and is the co-founder and Associate Director of the Boston Composers' Coalition, a non-profit group of composers dedicated to the creation, performance, and dissemination of new American music.
Christina Cho has been playing the cello for nine years and currently studies with Phillips Academy adjunct instructor Jan Müller-Szeraws and Song Mee Kyung of the Bucheon Philharmonic Orchestra. Raised in Washington, Christina moved to Seoul, South Korea, at age 10 and has since considered that city her home. On campus, Christina plays chamber music and is a member of the Academy Symphony and Chamber Orchestras. She also co-coordinates Andover-Lawrence Strings, a PA community engagement program. In her free time, Christina enjoys reading the news and watching movies. 
Reception to follow in Baldwin Cloister, lower level of Cochran Chapel. 
This concert is free and open to the public.  Cochran Chapel is accessible. For further information, please contact the Music Department at (978) 749-4260 or email music@andover.edu.
When:
Friday, February 22, 2019 8-9:30pm