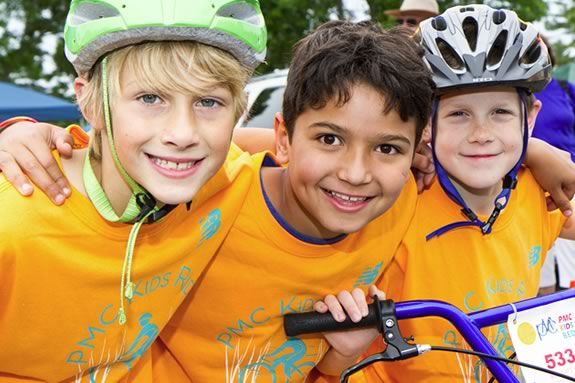 This summer, the Pan-Mass Challenge (PMC) Greater Newburyport Kids Ride will be one of many PMC Kids Rides throughout New England and beyond. Come join the fun, camaraderie and inspiration at the  PMC Greater Newburyport Kids Ride as kids ages 3-13 ride the Clipper City Rail Trail or a tricycle obstacle course at Cashman Park to raise money for Dana Farber Cancer Institute's Jimmy Fund.  Many kids, many bikes, one mission…cure cancer! Refreshments, entertainment and fun!  Pre-register online or on site!
PMC Official Kids Rides
PMC Kids Ride Schedule at a glance for June 9, 2019
8:30 am: :Volunteers arrive and meet with Crew Leaders. Coffee and bagels will be provided.
9:00-9:30am: Check In/Registration (pick up t shirts, water bottles, bike numbers).
9:30-10:00am: Opening Ceremony/group photo/rider warm up.
10:00-11:00am: Kids ages 4-13 Blaze a Trail on Clipper City Rail Trail!
10:15 am-11:00 am Obstacle course for 3 wheelers
11:00am-12:00 pm: Fun at Cashman Park. DJ, face painting, balloons, games, raffles!
*please note that times may vary slightly
When:
Sunday, June 9, 2019 9am-12pm
Prices:
Registration: $20
Fundraising Minimum: $30