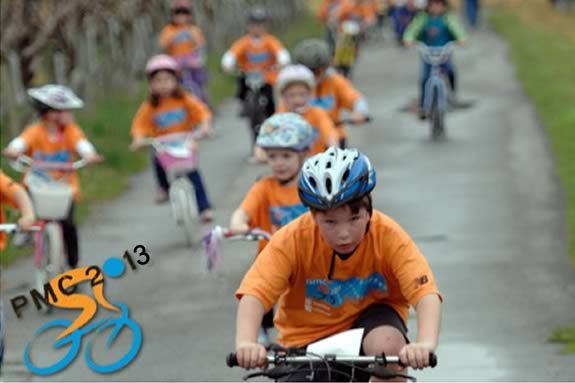 The Pan-Mass Challenge Marblehead Kids Ride will be one of 35 PMC Kids Rides held in neighborhoods throughout New England and beyond. Through the PMC Kids Rides program, nearly 6,000 cyclists between the ages of two and 15 will ride between one and 26 miles in mini-bike-a-thons to raise money for cancer research.
The PMC Kids Rides are spokes in the PMC wheel, supporting more than 5,000 adult PMC cyclists in their mission to fund cancer research and treatment at Dana-Farber Cancer Institute through its Jimmy Fund. The Pan-Mass Challenge is the two-day, 190-mile bike-a-thon held each August. Since 1980, the PMC has raised $303 million for the Jimmy Fund. PMC Kids Rides offer a way for children to become part of the PMC mission, involving young people in volunteerism and fundraising in a safe and athletic way. To date, the PMC Kids Rids program has raised more than $3 million for the Pan-Mass Challenge.
To give the young cyclists an additional push, the PMC will recognize cyclists in the Kids Rides program who raise $250 or more. Riders who meet this goal will be honored as Heavy Hitters and will receive a hat, a certificate and a sticker to place on their helmets.
Join the PMC Marblehead Kids Ride and help reach the goal of $15,000 this year.
Kids from Marblehead and beyond will come together to support the Jimmy Fund to benefit kids with cancer. The ride will offer two route options:
The Eveleth Neighborhood Loop: A one mile closed street course for all riders on two or more wheels to ride as many times as they can in an hour.
Bikepath Loop: A five mile loop for pre-registered riders (pre-reg must be completed by June 1st). Riders will be accompanied by a team of adult riders to the Marblehead/Salem border and back. Then if time allows they may continue riding on the Neighborhood loop.
All street crossings will have a Marblehead Police Officer to ensure rider safety.
Please stay for the POST-RIDE PARTY, Mix 104.1's radio truck will supply the music and ice cream. There will be food, music, face painting and raffle prizes. All pre-registered riders who meet the minimum fundraising requirement will be given three free raffle tickets. Heavy Hitter's, those who raise over $250.00 will be given 10 free tickets. Additional tickets will be available for purchase. In addition some of Marblehead's local hero's plan to bring a fire truck for all to explore.
Too Old To Ride? If you're 15 or older, you can join the fun as a volunteer. Click on "Register to Volunteer" to help out on event day.
The PMC Marblehead Kids Ride was started in 2005 by 16-year PMCer Lisa Rosen and her family who lost their mother, Arlene Rosen, to cancer. Today the rides coordinators Tanya and Kiana Hawley of Marblehead continue the tradition in memory of David Schmitt, who passed away in July 2009 after receiving nine years of treatment for Hodgkin's lymphoma at the Dana Farber Cancer Institute. The PMC Marblehead Kids Ride will hold a party after the ride, which will include a DJ, refreshments, face painting and a visit from some local heroes. The ride hopes to raise $15,000.
Make donations to the PMC Marblehead Kids Ride now by visiting the PMC Kids Marblehead website and clicking the e-gift tab. Or mail your check payable to "The PMC/Jimmy Fund" (Marblehead Kids Ride) , 77 Fourth Avenue Needham, MA 02494.
To register, visit the website or email the organizer Tanya Hawley.
When:
Saturday, June 8, 2013 from 3 - 5:15 p.m.
Prices:
Registration: $15
Fundraising Minimum: $25