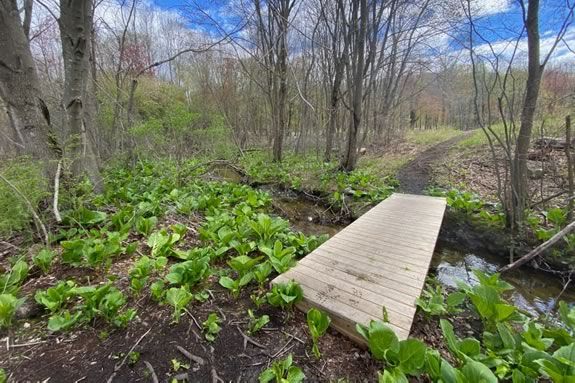 Hike one of North Andover's lesser-known trails and learn a little tree identification along the way! Come check out the Stevens to Stevens Trail, a scenic trail connecting the Old Center Common to Weir Hill to Osgood Hill. We'll meet at the North Andover Merchant Association Fall Festival on the Common, across the street from the trail entrance on Mass Ave.
Come and explore early summer meadows and woodlands with The Trustees and McVAGLY (Merrimack Valley Alliance of GLBT Youth) on this weekend hike. The Stevens-to-Stevens trail connects the North Andover town common to Weir Hill. Among the highlights of the walk will be our strolls through a maple swamp, sweeping meadows, scenic vistas and Lake Cochichewick. We will enjoy the beauty of June in New England, learn some basic identification characteristics of trees, and also enjoy an activity provided by our friends at ReVision Energy.
This hike is approximately 3 miles.
Space is limited; pre-registration is required. Scholarships available through the generosity of McVAGLY and ReVision Energy. Contact Kate Bibeau for more information: kbibeau@thetrusees.org
When:
Saturday, June 26, 2021 10am