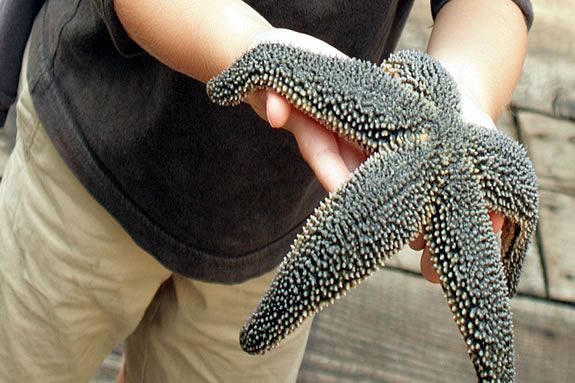 Learn about New England's amazing marine life! Northeastern University Marine Science Center sessions for Sea Tots feature a particular animal or topic, with opportunities for kids to get up-close-and-personal with live critters.  Also included are hands-on games or crafts based on the week's topic.
The Sea Tot program will be mostly indoors, but the mini biologist will definitely be venturing outdoors as well. The Northeastern University Marine Science Center have live marine animals kept in indoor touch tanks, but they're on an open seawater system... so some of their indoor activities bring the outdoors in - literally!
This program is a spectacular opportunity for North Shore kids to learn about our local marine wildlife. *Please note that we are not running the program on a drop-in or single-day basis any longer.
Register early! Space is limited. Registration will be on a first-come, first-serve basis.  You can email or call to get your child's name penciled in on the list, but registration won't be complete until we receive your completed form and payment.  Please make checks out to "Northeastern University".
If you can't make it Thursday, we also offer

Nonexistent node nid: 2028.
Open to children ages 3-5years, with chaperone.
Two time slots are available to choose from:
Tuesday Mornings: 9:30 - 11am
Thursday Mornings: 10:30 - noon
Schedule:
Session 2: Up the Food Chain
Week 1: Jan 10/12: What's For Dinner?
Week 2: Jan 17/19: What's in Sea Soup?
Week 3: Jan 23/25: Ocean Plants
Week 4: Jan 31/Feb 2: Slippery Snails
Week 5: Feb 7/9: My Two Shells
Week 6: Feb 14/16: Spiny Sea Stars
Session 3: Near Our Seashore
Week 1: Feb 28/Mar 1: Crabby Crabs
Week 2: Mar 7/9: Lurking Lobsters
Week 3: Mar 14/16: 2..4..6..8 Arms?
Week 4: Mar 21/23: Translucent Jellies
Week 5: Mar 28/30: Little Fishy's School
Week 6: Apr 3/5: Let's Go Swimming
Enjoy a walk around historic East Point when you are done!
When:
Tuesdays from 9:30 - 10:30am
Thursdays 10:30 - noon