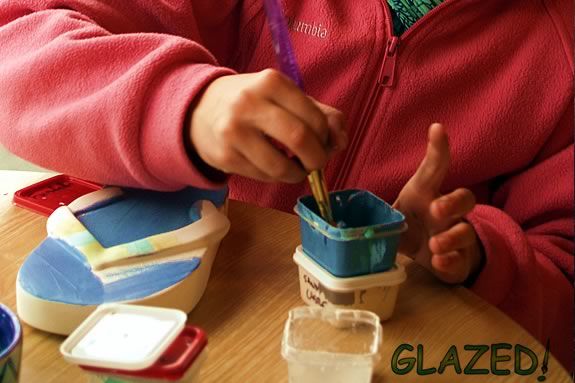 Glazed Ceramics has a fun filled week of projects lined up for February vacation drop-off workshops. The kids workshops will be held twice daily from 11-12 or 2-3. $15 per workshop includes all materials and supplies.
Tuesday, February 21, 2012 - Fused Glass

Try crafting with fused glass and design and create a Suncatcher.

Kid-friendly glass projects are designed to provide a completely safe way to work with glass.

Wednesday, February 22, 2012 - Dry Erase Message Boards

Use taping and dotting techniques to create a cool dry erase message board.

Thursday, February 23, 2012 - We All Scream for Ice Cream

Think summer as you create this special ice cream dish with matching spoon.

Friday, February 24, 2012 - Night Owl Plate

Whooo made this awesome plate? You did! Use bubble painting and masking techniques
Pick and choose individual days or sign up for the whole week to experience all techniques and projects.
Call now to reserve a spot - space is limited.
Roselle Randazza of Glazed Ceramics, a paint your own pottery studio in Gloucester, offers many family friendly events. It's a fun and unique way to spend time and have fun with family and friends.
At Glazed, there are hundreds of earthenware pottery pieces that you design and paint. Fully functional kitchenware (plates, mugs, bowls of all sizes, etc) specialty items just for holidays including seasonal decor and more...this is not your Grandma's ceramics!
People come in to creatively decorate their chosen object with non-toxic ceramic glaze or paint and pick up the ceramics that need to be fired in a kiln a few days later.
Very laid back, super helpful staff will offer your kids tips and techniques upon request as they enjoy painting their chosen ceramic piece.
Glazed Ceramic Studio also offers fundraiser events and birthday parties - a paint your own pottery party can be lots of fun. Check the website for prices and more information.
Watch our buddy Joey C's video of his visit to Glazed
When:
February 21-24, 2012 - twice daily 11-12 or 2-3