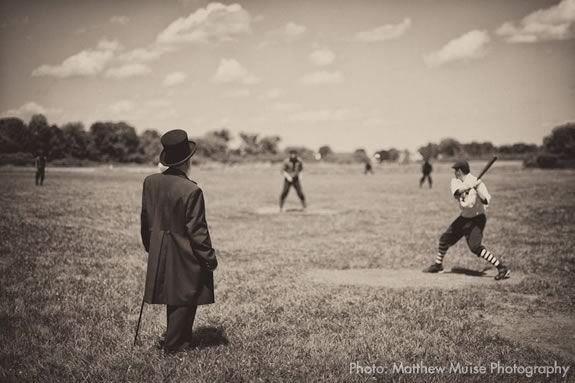 It's Base Ball, 1864 style at Spencer Peirce Little Farm! These fun, historically accurate games feature underhand pitching and no gloves are allowed. A ball bounced once and caught is an out! Snacks, baseballs, and cards are available for purchase. Come and see for yourself how this game was played in the 1860's. The teams playing represent actual teams that played in New England during the 19th Century!
Grass field seating: bring blankets and lawn chairs
No reserved seating
Weather permitting
The Essex Base Ball Organization, a non-profit "vintage" baseball group that plays baseball as it was played in the 19th century. We are based out of Newbury, MA and have four teams in our organization the Essex Base Ball Club, Lynn Live Oaks, Lowell Base Ball Club, and Newburyport Clamdiggers. One of our goals is to teach the history of baseball through games and demonstrations. In addition to playing a full schedule of games every summer, we run youth clinics in which we teach children the evolution of the game through hands on activities; we also give lectures on baseball history at historical societies, libraries, and other civic organizations.
When:
Sundays, September 10-October 1, 2023 Starting at Noon
Prices:
Historic NE Members: FREE
Non-Members: $5