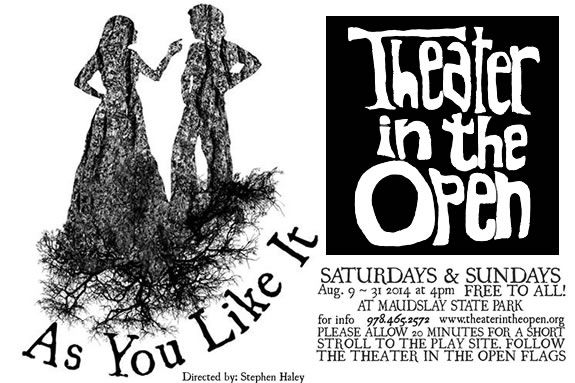 Shakespeare invites his audience into the Forest of Arden, where the beneficent and chaotic forces of Nature will melt away the synthetic bonds of the city and restore us to our proper selves…perhaps.  One of Shakespeare's most simple, flirtatious and playful comedies, As You Like It takes us away from the preening theater of the court to explore the primal theater of Nature; here is a play that belongs outside. Join us for a journey into the woods as we overlay the Forest of Arden on Maudslay State Park for Shakespeare's As You Like It.
Theater in the open will also be touring this production to other communities. To learn how you can celebrate Shakespeare's 450th birthday by bringing  As You Like It to your school or community please write to kelly@theaterintheopen.org.
Please leave 15 minutes for a short stroll to the play site.
Follow the Theater in the Open Flags.
This is an outdoor production.
Parking in the Maudslay State Parking lot, $2.00 fee.
When:
Saturdays and Sundays, August 9-31, 2014 4pm
Prices:
FREE
Maudslay Parking: $2 per car