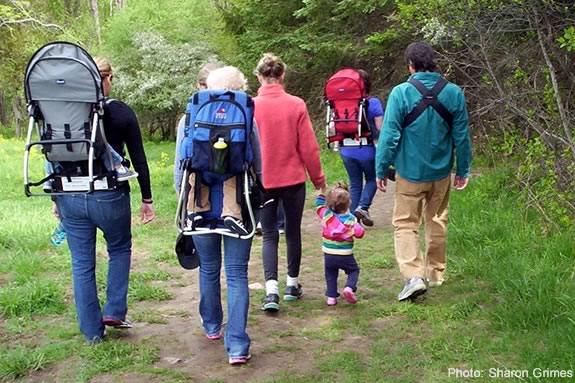 Backpack Babies is a program that encourages caregivers to explore the natural world with their babies and toddlers. Bring your backpack/frontpack or jogging stroller and explore the meadows, forests, and wetlands with your baby in this four-session series. Each class will begin indoors with a nature book and a few lap rhymes, songs, and games about the topic of the day. Then we'll go outside for a closer look at nature's gifts with our:
Two little eyes to look around
Two little ears to hear each sound
One little mouth that likes to eat
And two little hands to touch and feel and clap the beat.
Instructor: Sharon Grimes - Founder of Babies and Books
Meets in the Barn.
Please dress for the weather.
The fee is per adult/child pair.
Additional children (up to 23 months) pay half the listed fee.
If you wish to register more than one child please call the office.
When:
Friday, September 21, 2018 9:30 - 10:45 am
Friday, September 28, 2018 9:30 - 10:45 am
Friday, October 5, 2018 9:30 - 10:45 am
Friday, October 12, 2018 9:30 - 10:45 am
Prices:
Audubon Members: $52
Non-Members: $62