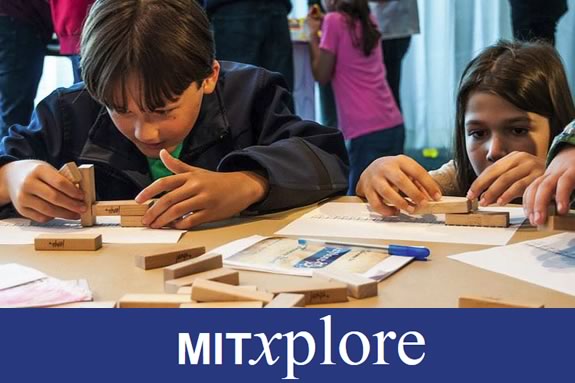 MITxplore's Sunday Sessions are returning for the spring! Sessions will begin on February 21, 2016 at 1PM, and hold 10 sessions between then and the end of May. For those of you who are new to the program, MITxplore has the goal of teaching children between 4th and 6th grades interesting and unusual math topics typically not covered in the standard school curriculum.
MITxplore uses a Socratic-style approach, guiding students through questioning and exploration so that your children find a solution to a problem on their own rather than by following a specific set of instructions. Topics covered in the past include mathematical games, the Pythagorean Theorem, and center of mass for shapes and solids.
The cost of the program is $150 total for the 10 sessions, and payment is required at the first session. Financial aid is available upon request. Please find the sign up form below - spots tend to fill up quickly!
MITxplore's mission is to stimulate your child's interest in mathematics to support them in their academic pursuits.
Students will have the opportunity to explore math in creative and fun ways, including discussions, demonstrations, and hands-on activities.
MITxplore will provide all necessary books, tools, and equipment for the sessions.
When:
Sundays, February 21 - May 10, 2016 1PM