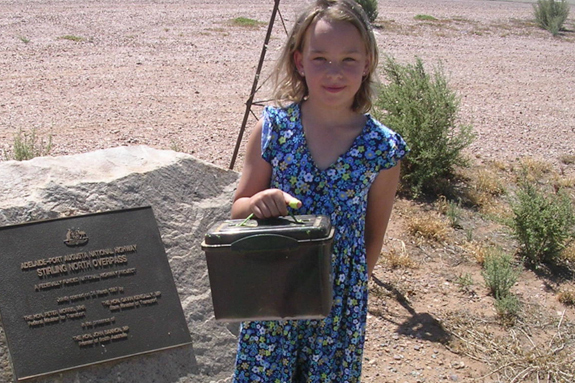 Geocaching is a free, fun, high-tech treasure hunt, where players use a handheld GPS and coordinates to find the cache or treasure. Our cousin introduced us to the game this past spring and it is really fun.  Plus, it is free to start and it is an activity your entire family can enjoy together. The north shore lends itself to many fabulous Geocaching locations with over one million caches stashed all around the world – many here on the north shore. I very much enjoy and recommend it so join in and let the hunt begin!
Basically, people who play the game hide caches, mostly in public spaces (think parks and other locales) for others to find. Then they post the coordinates of their cache along with other pertinent information online. The simplest cache is usually a small plastic container with a log book that finders sign for the owner - who maintains and checks the cache regularly.
If your kid likes scavenger hunts (and what kid doesn't) they will love doing this. If you haven't heard of it don't feel bad.  Geocaching is a relatively new activity. It has been around for about ten years – coming into existence with the advent of handheld GPS's.  
The idea is simple but challenging. Even with the GPS coordinates the caches are pretty hard to find. To date we have found four cache – and we've had tons of fun finding them - now we're addicted.
There are a lot of geocaching websites that post coordinates, but the biggest and most North Shore family friendly is,
Geocaching.com
. The basic membership is free and it allows you to get coordinates to hunt for caches and keep track of what you find. Also when you click on a the details of a cache to search for it tells you if it is kid, stroller or pet friendly and other information you need to know. You can also post your own caches for others to find.  
There are very few rules in this game, if you take something from a cache you must leave something of equal or greater value and you must enter your name into the log book.