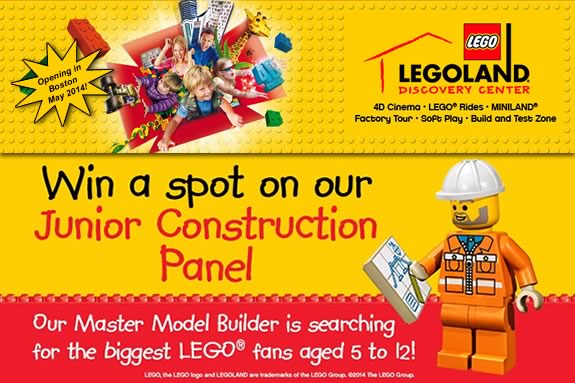 LEGOland Discovery Center Boston is opening this May in Somerville and they're looking for kids to be on their Junior Construction Panel! If your child is a LEGO afficianado and aged 5 - 12 (as of May 23, 2014), they are eligible to enter a contest to be one of twelve children join the the panel. The Junior Construction Panel will assist our Master Model Builder for Boston, Ian Coffey, with important tasks at LEGOLAND® Discovery Center Boston, such as testing the rides and helping at the Grand Opening Celebration. 
Kids can apply with a video or written submission that answers the question: "What makes you the biggest LEGO fan, and why should you be on the Junior Construction Panel?" Answers will be accepted through March 14, so make an entry and submit it today! Submissions will be evaluated on the creativity and enthusiasm exhibited in the child's response, and imagination conveyed in the child's LEGO model.
The inaugural Junior Construction Panel will be announced Monday, March 17 on LEGOland Boston's  Facebook page.