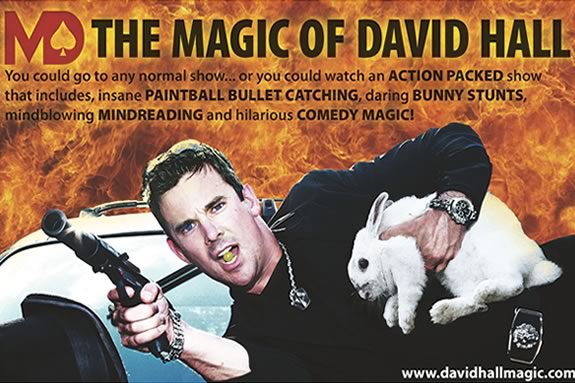 We were fortunate enough to catch Magic Dave performing in Gloucester at Gloucester Uechi Karate Academy recently and were completely entertained! He mixed the perfect balance of comedy and magic with a pinch of group hypnotism to create and hour long show that kept the kids entertained and engaged as audience members.
His material was geared toward the large crowd of kids who showed up for the show, and you could hear the parents laughing and having fun all the way through.  His tricks were simple for the kids to follow, and he actually spent some time teaching his audience a couple of tricks that they could do themselves!
Magic Dave's demeanor is one of familiarity, and his ability to engage a large group of kids for an hour was impressive to say the least.  I had a feeling at the end of the show that he could have kept going - and the kids could have too! 
There was a great interaction when he called a child up from the audience.  He said, "What's your name kid?" and without hesitation the little boy responded, "Darth Vader".  Magic Dave just kept going with the act and called the boy Darth Vader throughout.  The way he handled this 4 year old was magic, and was a wonderful example of a seasoned entertainer that thinks on his feet! 
If you have a party coming up, a crowd to entertain, or would like to some great entertainment for a fundraiser, call Magic Dave! He offers shows geared for kids, stage shows, close-up magic and walk-around magic acts that he'll cater to your needs.
Magic Dave Promo Video