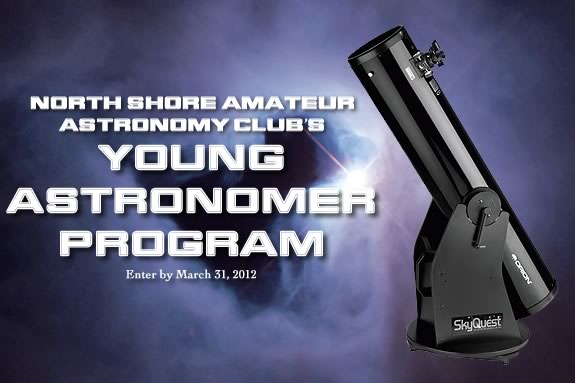 Do you have a space cadet in your family?  No, not somebody who's spaced out - somebody who is genuinely interested in space exploration and the study of all things extraterrestrial!  Well, North Shore Amateur Astronomy Club has a great program for kids to nurture their interest and maybe even win a really cool prize! 
The goal of the program is award students of the North Shore with Astronomy equipment that will help them further their interest. This year's prize pool includes six 6" Reflecting telescopes and 10x50 binoculars as secondary awards for selected entrants.
Kids are asked to collaborate with their science teachers to enter an essay contest where the winner walks away with new equipment for gazing at the stars!  Teachers must nominate their students with an interest in science to participate, and students are required to write an essay describing their interest in astronomy or an experience they have had  on the subject. 
Kids in grade 4-8 are eligible
Entries must be postmarked no later than Monday March 31, 2012
Winners will be contacted on or after April 9, 2012
Telescopes will be presented Saturday, April 28, 2012 at Veasey Park in Groveland.
Call the Young Astronomer Coordinator: Kevin Ackert 978-663-5305 with your questions.