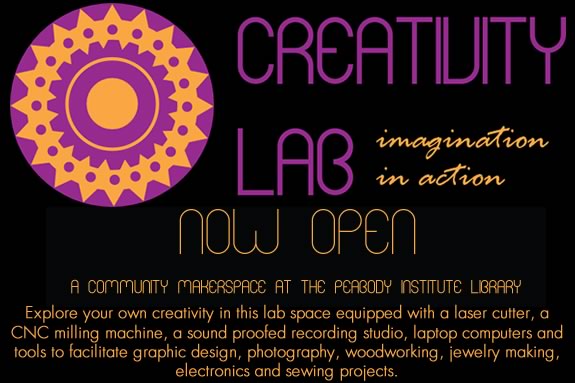 Do you have a maker in your family?  Here is a wonderful resource right on the North Shore to facilitate their desire to create! The Peabody Institute Library has recently opened their new Creativity Lab that includes an array of tools that can be used to make and fabricate all kinds of projects.  From music to sewing to electronics, the Creativity Lab is a great place to come to collaborate with others, brainstorm, make and create!  Come visit the lab and nurture your desire to make something better with your own ideas, or to create something completely unique!
There are plenty of events and workshops to help you become familiar the lab's equipment so check the library calendar for any that interest you! There are even open labs to explore on your own. The new lab has the following equipment that you may use to complete your projects:
Woodworking Bench
3D Printer
CNC Milling Machine
Laser Cutter
Sound proof recording studio
Laptop computers
There are also tools to facilitate graphic design, photography, woodworking, jewelry making, electronics and sewing projects.
The Creativity Lab was collaboratively designed with community partners, including Peabody Access Telecommunications, Salem State University, The Peabody Public Schools, Montserrat College of Art, The City of Peabody Department of Community Development, ArcWorks Community Art Center, North Shore Community Action Programs and The Torigian Family YMCA.
The Creativity Lab is funded by the City of Peabody, the Peabody Community Development Authority, Eastern Bank and with federal funds provided by the Institute of Museum and Library Services and administered by the Massachusetts Board of Library Commissioners.