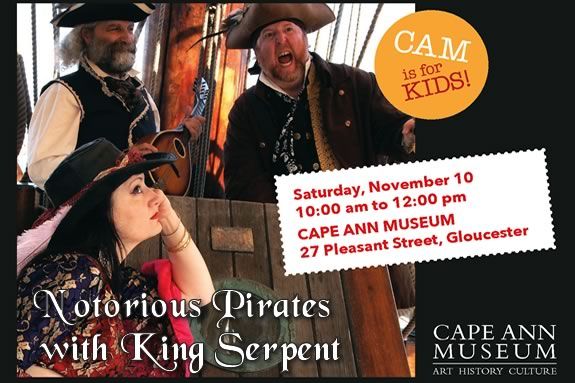 Argh! It's all hands on deck matey for a morning of stories and songs celebrating pirates with the King Serpent Variety Troupe. Free for families with children. The King Serpent Variety Troupe is an outlaw themed performing group based in New England.
With music, dance, singing, and storytelling, they have invaded a wide variety of venues and made away with the hearts of audiences young and old. Led by director and lead writer David Breen, the King Serpent has performed on many stages around New England, including Topsfield Fair, Mahi Mahi Cruises & Charters, and Cape Cod Irish Village Hotel. Michael Bloom composes and performs most of the music for the shows. Josephine Boone is stage manager, choreographer, and costume designer. Bill McIninch serves as co-writer and props creator.
Admission is free on the second Saturday of every month for families with children up to age 18.
See the galleries, join a workshop and more!
Registration is recommended.
Up Next:
November: Pirates
December: Middle Street Walk
When:
Saturday, November 10, 2018 10am-Noon