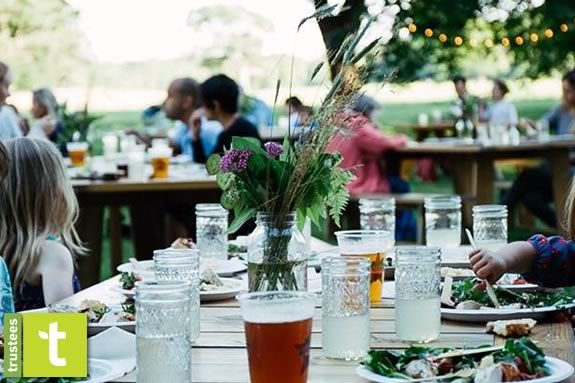 Join Appleton Farms for a dinner on the farm! Each Friday Appleton Farms and Chive Events invites you to join us for dinner. Relax under the setting sun and enjoy a truly unique farm to table experience. From fresh vegetables and fruits, to local pasture raised meats and sustainable seafood, Chive Events will prepare each meal using the best ingredients available from our own and other local farms. Menus may include slow roasted pork with rhubarb jam, seasonal fresh salads and homemade strawberry short cakes. Watch the season change with each meal and bring the whole family to enjoy the weekly harvests. A casual dinner set overlooking the Great Pasture will remind you to slow down and breathe in the summer's air. Enjoy a cold beverage from our friends at Ipswich Ale while you play oldfashioned lawn games and listen to live music.
Registration is required! Ticket price includes the full dinner, nonalcoholic beverages (beer and wine will be available for purchase), dessert, games, music and all the fun you can handle! Full menus will be posted as soon as possible.
Dinners are held in our Carriage Barn in the case of rain or in our Stone Paddock if the sun is shining.
Chive Events is known for their commitment to sourcing locally year round and for creating beautiful events that leave no trace. Visit them at www.chiveevents.com and on their social media platforms @chiveevents to learn more about the events they do and what's going on with them when they're not at the farm! You can also enjoy Chive's prepared meals in your own home throughout the week by visiting www.chiveevents.com/preparedmeals/ as well as catering and full service events for any occasion.
Our partnership is a celebration of Appleton and Chive's dedication to honoring food, the land, and a true sense of community.
This event is part of the Appleton Cooks! program. For more information about Appleton Cooks! and similar events please click here.
When:
Fridays June 23 - September 29, 2017 5:30-8:30pm
Prices:
Member: Adults: $36; Children: $12
Non Members: Adults: $45; Children: $15
Children under 1 are FREE