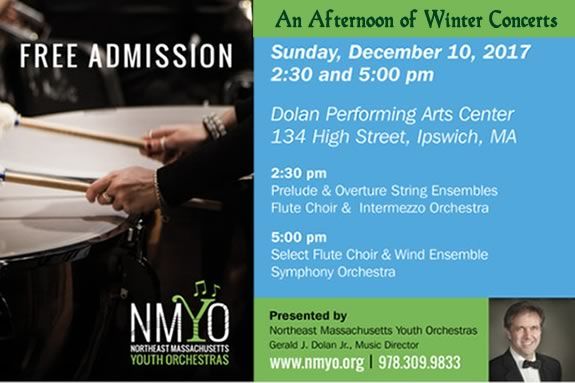 Northeast Massachusetts Youth Orchestras (NMYO) will be presenting their Winter Afternoon of Concerts on Sunday, December 10 at Ipswich Performing Arts Center. The afternoon will be split into two events – a concert at 2:30pm featuring Prelude and Overture String Ensemble, Intermezzo Orchestra, Junior Flute Choir, and Flute Choir; and a concert at 5:00pm featuring the Symphony Orchestra, Wind Ensemble, and Select Flute Choir.
This concert is free and open to the public and appeals to all ages.  Each concert will last between an hour and two hours and both will be followed by a reception after the performance. The NMYO Silent Auction will take place during the concerts as well.

For more information on NMYO and their performances and opportunities for young musicians, please visit the website at nmyo.org or contact NMYO at info@nmyo.org or (978) 309-9833.
About Northeast Massachusetts Youth Orchestras
The mission of the Northeast Massachusetts Youth Orchestras (NMYO) is to provide young musicians with exceptional ensemble training and opportunities for growth through musical performance and community service. Led by Music Director Gerald J. Dolan Jr., with an accomplished team of music professionals, NMYO creates community connections and collaborations for its young players.  NMYO's musicians come from over 40 towns and participate in one of eight ensembles offered by the program. The regular rehearsal and concert schedule is supplemented with master classes, enrichment days, chamber music coaching, community service outreach concerts to underserved populations, and a composer in residence program.
When:
Sunday, December 10, 2017 2:30pm & 5pm