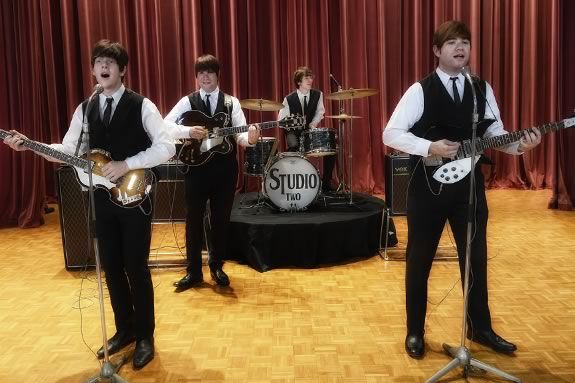 Part of the Thursday Night Picnic Concerts at Castle Hill at the Crane Estate in Ipswich, this is a great way to get together and have fun with the whole family in an exclusive setting. Castle Hill Picnic Concerts are back! Pack a picnic supper and enjoy an evening of live music on the magnificent Grand Allee. Stroll the grounds and explore the newly restored gardens while you enjoy a night out on the estate. Gates open at 5PM for picnicking. Advance ticket reservations are recommended but not required.
Tonight's concert will celebrate the legacy of the Beatles with Studio Two a Beatles cover band that pays tribute to the early Beatles years, choosing songs from the pre-Sargeant Pepper era. The four lads met in a "cellar full of noise" in the town of Milford, NH. by recreating the Fab Four's music, instruments, and onstage banter, Studio Two performs favorite hits that will bring everyone to the dance floor.
Studio Two | Live Around the Studio
Bring a picnic supper or purchase supper onsite from vendors Beefie Boys or Plat Du Jour and dessert from Down River Ice Cream or Q's Nuts. Mill River Winery, True North Ales, and 1634 Meadery will sell beverages each week. Outside alcoholic beverages are not permitted and parcels will be searched upon entry.
Picnic blankets, lawn chairs, and low tables are permitted. Please no tents, lawn umbrellas, grills, candles, or pets.
Gates open at 5PM for picnicking.
Tickets available at the gate or reservations online (use link below)
Visit Thursday Night Picnic Concerts at Castle Hill for more information on:

Other concerts in this series
A list of vendors with pre-ordering specifics
Venue Rules and Regulations
Rain Date Info
When:
Thursday, July 13, 2023 7-9pm
Prices:
Members: $30/car
Non-members: $40/car