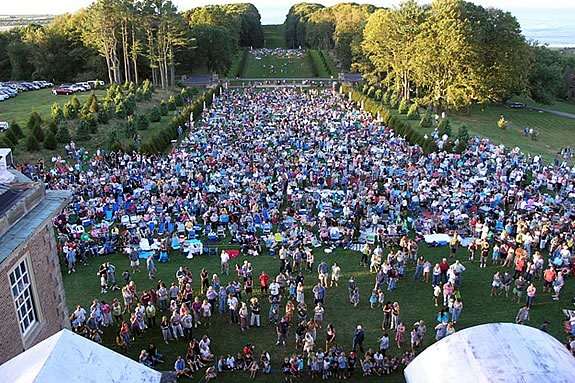 Pack a picnic and bring your dancing shoes to Castle Hill on the Crane Estate in Ipswich for a diverse series of concerts that are sure to entertain!  Enjoy the long, lazy days of summer at Castle Hill's Picnic Concerts. Each week offers an exciting family-friendly and danceable band. Walk the grounds, visit the gardens, or relax on the lawn. Stop by the visitor information tent to check out our weekly raffles and membership promotions, borrow a frisbee or ball, or try our family Eye Spy based on Castle Hill's landscape features.
Explore the newly restored landscaped lawn and try the family Eye Spy featuring statuary and architecture. Don't miss the weekly raffle and membership promotion. Let our lawn be your summertime playground.
Concerts start at 7PM and end at 9PM. Gates open at 5PM for picnicking.
Concert Schedule:
Rain Dates
If a concert is canceled due to weather, we will update this page at 3PM on the day of the show.
Vendors
Castle Hill is proud to partner with the following vendors for your convenience:
Cost:
Members: $25/car.
Nonmembers: $35/car.
Walk-ins, bikes & motorcycles: TTOR Members: $8; Non-Members: $10
Tickets available at the gate only.
Gates open at 5PM for picnicking.
Alcohol Policy
BYOB is no longer permitted, and alcohol will be served by Ipswich Ale Brewery and Mill River Winery! Learn more info by downloading the policy for alcoholic beverages at the Crane Estate.
More Info
Please carry out what you carry in, including trash!
Hanidcapped seating available on the picnic lawn
Bring your own picnic blankets, tables, chairs and picnic suppers
Tents are not permitted
No smoking in the concert area.
No grills, open flames or candles
Please leave your pet home.
Limited Seating
In response to the overwhelming popularity of the Summer Picnic Concert Series, The Trustees will once again limit the number of concert attendees to 2,000 people. Concert attendees are encouraged to arrive early to ensure admission. Until concert capacity is reached, parents may drop off middle school and high school students at the designated "walk-in" gate. A gate attendant will be equipped to admit walk-ins and collect the $10 admission fee. At the conclusion of the concert, parents should enter through this same gate and park at the barn complex to await their children.
More Information can be found on the Trustees page using the link below.