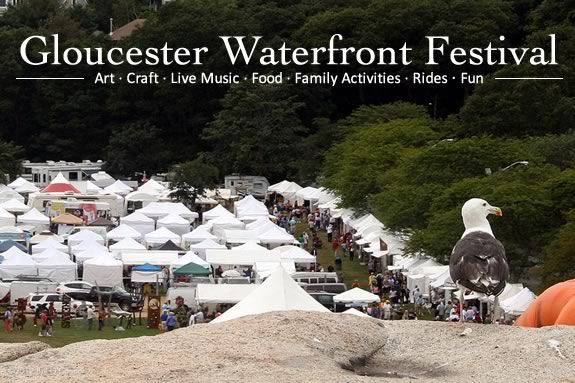 Historic Stage Fort Park along Gloucester Harbor will once again blossom into the colorful 38th Annual Gloucester Waterfront Festival. A collection of over 175 Juried Artists and Craftsmen from throughout the U.S. will display their unique creations, live music, plus delicious ethnic foods. A pancake breakfast and traditional New England Lobster Bake complement this picture perfect seaport event!
Come and sample an array of gourmet delights and superb fair food such as Herbal Dips, Wine Slush Mix, Salsas, Baked Nuts, Fudge, Olive Oils, Vinegars, Baked Goods, Chocolate, Maple, Honey, Whoopie Pies, Finishing Sauces, Candies, Cocktail Mixes, Hot Sauces, Pasta Sauce, Jerky, Gluten Free Baked Goods, Garlic Salts, Cookies and more.
Free live "family style" entertainment includes a wide variety of music. North Shore Old Car Club will display over 75 Antique Autos on Sunday. Come and sample an array of gourmet delights such as Herbal Dips, Trail Mixes, Jams & Jellies, Maple Products, Dried Fruit & Nuts, Salsa, Mustards, Vinegar's and more.
The Gloucester Waterfront Festival runs Rain or Shine.
Handicap Accessible.
Friendly pets on a leash are welcome.
Exhibits:
Fine Jewelry
Watercolors
Pottery
Custom Signs
Bird Houses
Quilts
Silk & Dried Floral Arrangements
Wildlife Art
Dolls
Pressed Flowers
Painted Antiques
Photography
Metal Sculpture
Western Wear
Sand stone
Carved Birds
Maps
Fiber Arts
Stained Glass
Music Boxes
Scroll Work
Masks
Candles
Copper
Wood Burning
Slate
Tapestry Bags
Nautical Crafts
Shaker Style Furniture
Baskets
Oil Paintings
Primitive and Folk Art
When:
Friday through Sunday, August 16-18, 2019
Prices:
FREE
Parking: $10 per car
(Free parking along Stacy Blvd and Gloucester High School)