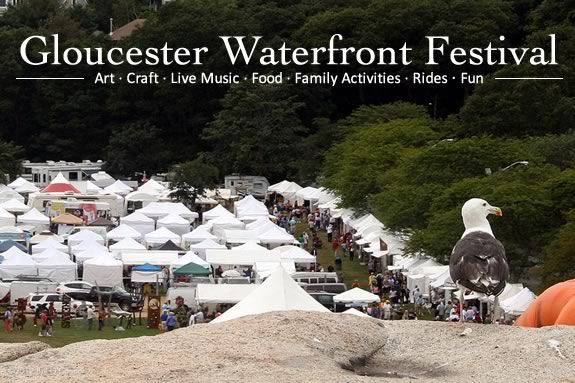 Historic Stage Fort Park along Gloucester Harbor will once again blossom into the colorful 42nd Annual Gloucester Waterfront Festival. A collection of over 175 Juried Artists and Craftsmen from throughout the U.S. will display their unique creations, live music, plus delicious ethnic foods. A pancake breakfast and traditional New England Lobster Bake complement this picture perfect seaport event!
Over 175 juried Artisans, Artists, Authors, Food Vendors and Musicians will display and sell their American made works including Fine Jewelry, Pottery, Custom Signs, Quilts, Decorative Painting, Fleece, Fine Art Photography, Sea Glass Jewelry, Handbags, Scarves, Leather Accessories, Floral Design, Blown Glass, Semiprecious Stone Jewelry, Children's Clothing, Candles, Nonfiction Works, Trivets, Baskets, Place-mats, Original Painting, Folk Art, Wind Chimes, Pillow Quilts, Personal Care Products, Furniture, Postcards, Garden Art, Pet Treats & Accessories, Landscape Photography, Toys, Ladies Apparel, Flame Colorant, Slate Signs, Knit Blankets, Painted Stemware, Cutting Boards, Wreaths, Sea-glass Creations, Country Wood Crafts, Ornaments, Aroma-Therapy, Sports Team Apparel, Alpaca Fiber Accessories, Nautical Home Decor, Sun-catchers, Original Oil Paintings, Clocks, Shell Craft, Watercolor Painting, Hair Accessories, Stained Glass, Wood Turned Items, Wall Hangings, Vintage Chic Decor, Ceramic, Doll Clothes, Eggshell Art, Metal Sculpture, Beaded Watches, Birdhouses, Nature Photography, Chain-mail Jewelry, Henna, Seascape Epoxy Resin Art, Lamps, Tablecloths, Up-cycled Clothing, Wood Carving, Plush Dolls, Embroidery, Linocut Art, Bling Clothing, Cork Leather Accessories Bags, Classical Music, Growth Charts, Alternative Reusables, Railroad Spike Art and so much more. 
Come and sample an array of gourmet delights such as Herbal Dips, Baked Nuts, Fudge, Nut Butter, Dry Rubs & Spices, Infused Balsamic Vinegars and Olive Oils, Seasoning Rubs, Bundt Cakes, Chocolate, Honey, Finishing Sauces, Jams & Jellies, Maple Products, Kale Snacks, Cannoli, Allergy Friendly Dessert Mix, Raw Honey, Beef Jerky, Salad Dressings & more.
Bring your appetite for the Amazing Food Court with traditional fair fare including Hot Dogs, Sausage, Fresh Veggie Wraps, French Fries, Italian Ice, Kettle Corn, Burritos, Chicken Tenders, Corn Dogs, Cheese Steak Grinders, Hamburgers, Quesadilla, Fried Twinkies, Funnel Cake, Tacos, Fried Mozzarella Sticks, Fried Oreos & more.
The Gloucester Waterfront Festival runs Rain or Shine.
Free Admission. (Fee to park at beach parking)
Handicap Accessible.
Friendly pets on a leash are welcome.
Exhibits:
Fine Jewelry
Watercolors
Pottery
Custom Signs
Bird Houses
Quilts
Silk & Dried Floral Arrangements
Wildlife Art
Dolls
Pressed Flowers
Painted Antiques
Photography
Metal Sculpture
Western Wear
Sand stone
Carved Birds
Maps
Fiber Arts
Stained Glass
Music Boxes
Scroll Work
Masks
Candles
Copper
Wood Burning
Slate
Tapestry Bags
Nautical Crafts
Shaker Style Furniture
Baskets
Oil Paintings
Primitive and Folk Art
When:
Saturday, August 19, 2023 9am-6pm
Sunday, August 20, 2023 9am-5pm
Prices:
FREE
Parking at Stage Fort Park: $25
(Additional parking along Stacy Blvd and Gloucester High School)