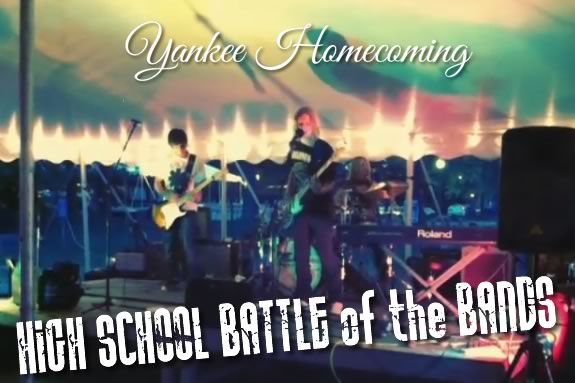 Yankee Homecoming invites you to the Ninth Annual High School Battle of the Bands. Local High School aged bands will compete to see who rises to the top and wins the opportunity to open for a YHC Waterfront Concert as well as cash and prizes! Watch local student bands battle it out on the stage, and help your favorite band by voting for them!
Each band will be allowed 5 minutes of play time.  Audience members will judge the competition by using their ticket to vote for their favorite band. Prizes will be awarded at the competition.
FIRST PRIZE:

$100 CASH
OPENING ACT YHC WATERFRONT CONCERT SERIES
RECORDING SESSION-ON THE FRINGE STUDIOS
ON-AIR INTERVIEW AT EVOLVEMENT RADIO & RECORDED SONG PLAYED LIVE!
PAID PERFORMANCE YHC PARADE

SECOND PRIZE:

$100 CASH
HEADLINE PERFORMANCE LAST SATURDAY NIGHT ON OUR MARKET SQUARE STAGE
GIFT CERTIFICATE

THIRD PRIZE:

$100 CASH
Paid PErformance August 4th, Market Square
*NEW FOR 2019* ACOUSTIC/SOLO ARTISTS
FIRST PRIZE:

PAID PERFORMANCE SUNDAY AUG 4TH MARKET SQUARE STAGE
$100 CASH

SECOND PRIZE
Band entry deadline is midnight on  July 18, 2017 so download your application now!
Bands have agreed to keep vulgar language out of their lyrics and keep their performances in line with a family-friendly environment.
Featuring bands from:
Amesbury High
The Governor's Academy
Newburyport High
Pentucket Regional High
Triton Regional High
The Musical Suite
West Newbury School of Music
Other local bands
When:
Friday, July 26, 2019 5-9:30pm