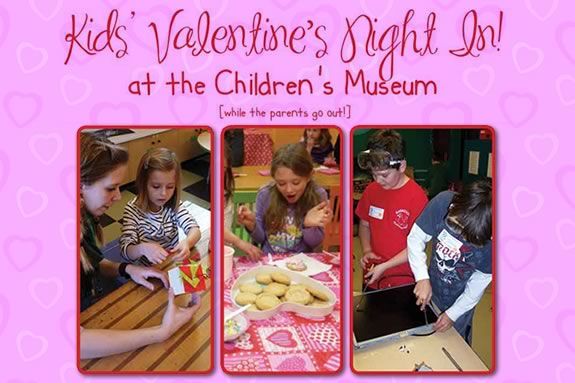 Parents who can't find a babysitter for Valentine's Day are in luck! the Children's Museum of NH is hosting a Kids Valentine's Night so parents can drop off their children and go out to dinner.  In 2014,, the first-ever Kids Valentine's Night at the museum will offer four hours of fun for kids including dinner, educator-led activities and dessert. The program is open to children ages 5 and up, though 4 year olds will be accepted if registered with an older sibling. A maximum of 30 children can participate and pre-registration is required.
Children's Museum educators have a fun evening planned for all the young attendees, including an indoor scavenger hunt, a mini version of the museum's Make It or Break It Workshop with cool tools and materials, take-home creative projects and more. Cheese pizza, fresh fruit, juice and water will be served for dinner, and each child can decorate their own cookie for dessert. Children can be dropped off and picked up anytime within the 5:30 - 9:30 pm timeframe. 
To register for the Kids Valentine's Night at the Children's Museum, please call the museum at 603-742-2002.
When:
Friday, February 14, 2014 5:30-9:30 pm
Prices:
1 child: $30/each
Addtional Children: $25/each