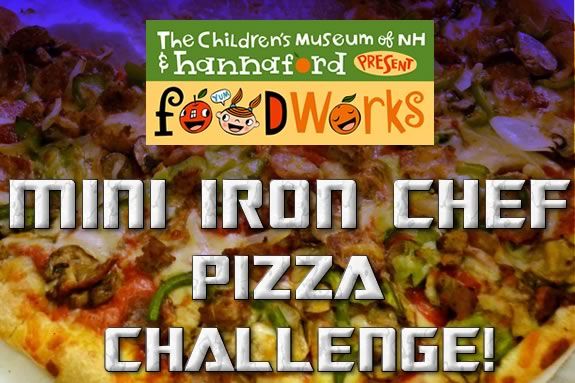 The Children's Museum of New Hampshire hosts an Iron Chef challenge for kids! Kids who love to cook are invited to test their skill at the Children's Museum of NH's fourth annual Mini Iron Chef Challenge on Sunday, March 9. This event is sponsored by Hannaford Supermarkets as part of the FoodWorks partnership that Hannaford created with the museum.
This year's Mini Iron Chef challenge centers around making the tastiest pizza, and kids are invited to pair up with a parent or adult friend to register for one of two competition rounds. Children ages 4-7 will compete from 1:00 – 2:00 pm, and children ages 8-12 will be cooking from 3:30 – 4:30 pm.
At each session, adult-child teams are provided with a variety of pizza bases and toppings, as well as cooking utensils and equipment. Each team is challenged to create a new and delicious pizza recipe to share and taste-test with a panel of judges.
"This program has been a big hit since we launched it," said Jane Bard, President and Education Director for the Children's Museum. "Hannaford has been an excellent partner for our efforts to get kids involved in the kitchen and choosing healthier alternatives for meals and snacks. We even put on a local farmer's market inside the museum at the peak of growing season to entice kids with colorful fresh produce. We are pleased with how well families have responded to our FoodWorks programs and are continuing to develop new opportunities likethis with Hannaford."
The cost is $10 per adult/child pair for museum members and $20 per adult/child pair for non-members. Pre-registration is required because this event always sells out. Families can register at the Children's Museum or by calling 603-742-2002 during weekday business hours (9 am – 5 pm).
When:
Sunday, March 9, 2014 1-5pm