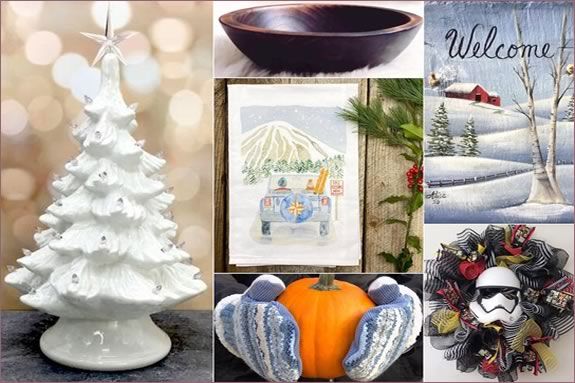 America's oldest fairgrounds flourishes with holiday flavor at the 25th Annual New England Craft & Specialty Food Fair, taking place at the indoor Arena at the Topsfield Fairgrounds, in Topsfield, MA on November 12, 13 & 14, 2021.
A "food sampling" extravaganza will be presented with such gourmet Specialty Food delights; such as Chocolates, Soup Mixes, Hot Sauce, Dessert Mixes, Jams, Candy, Wine Slush Mix, Fudge, Cookies, Tea, Herbal Dips, Pastries, Greek Oils, Pickles, Baked Nuts, Pepper Jelly, BBQ Sauces, Vinegar, Toffee, Candies, Finishing Sauces and so much more.
Over 200 of the regions finest Artisans will display and sell their American made arts and crafts; including Floral Arrangements, Tapestry Bags, Paper Crafts, Toys, Engraving, Aroma Therapy, Pottery, Personal Care Products, Folk Art, Beaded Scarves, Soy Candles, Hair Accessories, Quilts, Tile, County Decor, Decorative Painting, Pet Treats & Accessories, Holiday Knits, Fine Art, Holiday Décor, Pillows, Watercolor Painting, Fine Jewelry, Cutting Boards, Alphabet Photo Art, Turned Wood, Clay, Landscape & Wildlife Photography, Fleece, Trivets, Cribbage Boards, Rustic Furniture, Fused Glass, Painted Stemware, Children's Clothing, Beach Glass Art, Steam Punk Accessories, Adult Apparel, Up-cycled Mittens, Flags, Knitted Hats, Original Oil Painting, Aprons, Ornaments, Doll Clothes, Leather, Celtic Embroidery, Fine Wood Crafts, Sheep Skin Slippers, Stained Glass, Decoupage, Handmade Soap, Fragrance, Alpaca Yarn, Vintage Chic Décor, Wood Burning, Puzzles, Baskets, Wind Chimes, Classical Music, Baby Blankets, Ceramics, Sterling Silver Jewelry, Sports Apparel, Dolls, Custom Signs, Lamps, Pine Cone Wreathes, Terrariums and more.
One admission is good for all 3 days. 
The New England Craft & Specialty Food Fair is held indoor, rain or shine with plenty of free parking. 
When:
Friday-Sunday, November 12-14, 2021 10am-5pm
Prices:
Adults: $8
Kids Under 14 Years Old: FREE
One Admission Good for All 3 Days