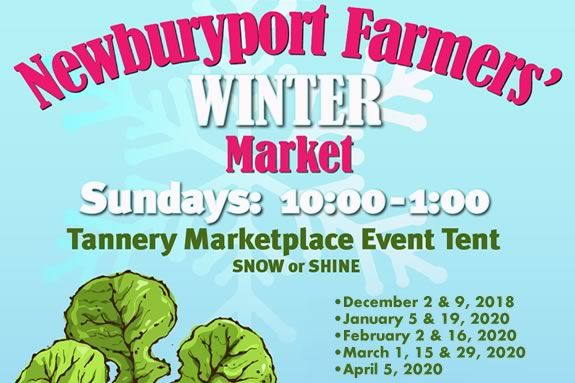 The Newburyport Farmers Market brings the market indoors for the Winter months and encourages people to come see what Newburyport has to offer! Fresh soups will warm you as you find great to local meat, fish & produce, listen to live music, and meet a community of people dedicated to bringing you fresh food year round!
The winter farmers market is located in the Tannery Marketplace Event Tent - rain, snow or shine! Come find great food and gift ideas throughout the Winter months, and let your family experience the taste and nutrition of local Winter crops!
You will find:
Local Produce
Free Range Meats
Cheeses
Baked Goods
Savories
Sweets
ArtisanalCrafts
Hot Soups
Live Music
Community Organizations
Be sure to get there early to eat, mingle and enjoy!
When:
Sundays, March 15 & 29, 2020 10am-1pm
Sunday, April 5, 2020 10am-1pm
.