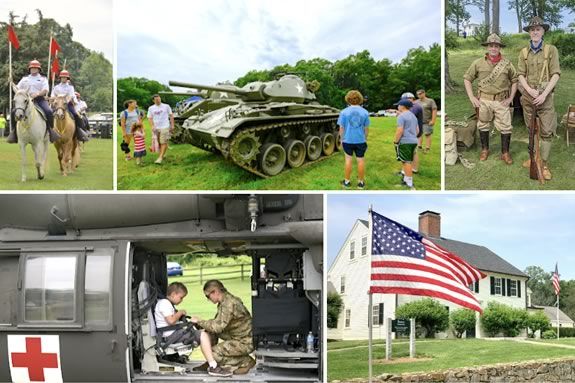 The mission of this public event is to highlight and honor military service and veterans. The event is a day-long exhibition of vintage military vehicles, equipment, military reenactors, speakers – both veterans and academics – and other veteran-related attractions, held on the grounds of the home of one of America's most famous and celebrated military families. Admission is FREE to the public.
Join us at the Patton Homestead in Hamilton MA, the family home for over 90 years of General George S. Patton, WWII, his son General George Smith Patton, Korea, Vietnam, Black Horse Air (helicopter) Cavalry, and his wife Joanne Holbrook Patton, a pioneer Army Social Services innovator during the Vietnam War.
Attendees can expect:
Regional, national speakers
Operating tank demonstrations
Massachusetts State Police EC135 Helicopter landing and special Unit displays!
Military re-enactors
Equipment displays
Demonstrations
Military vehicles including half-tracks, a variety of vehicles, heavy trucks
Artillery & support equipment
Memorabilia
*The Boston Park Rangers Mounted Patrol Unit and other horse and rider units
And so much more to be announced!
100% funded by donors, not government funded.
*Helicopter landings pending mission changes or weather, check our P194 Facebook page for times, confirmations.
When:
Saturday, July 15, 2023 10am-4pm
Prices:
Free Admission
$10 Parking (Donation)