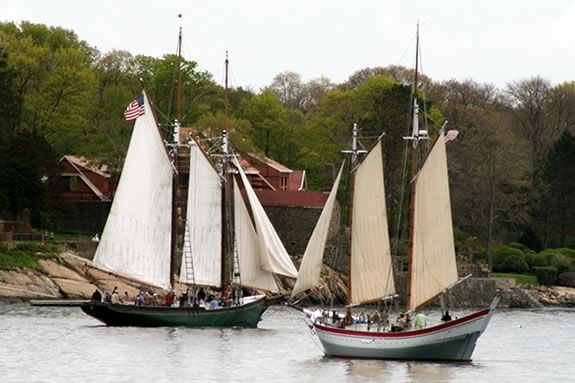 Hop aboard one of three Essex-built schooners and take part in a fun evening of friendly competition that raises funds to benefit the care and stabilization of the Essex-built schooner Evelina M. Goulart. Join the crew of Schooner Thomas E. Lannon, Schooner Ardelle or and the museum's flagship Lewis H. Story. Activities include: sail raising exercises, sailing around a marked course, man overboard drills, salty songwriting (extra credit for instrumentation), knot tying, best photo competition, and whatever else the captains can dream up! 
Boarding will take place at the docks of Maritime Gloucester, and crews will be assigned by random drawing. Efforts will be made to keep couples and friends together.  This is a fun family event, and there is no age limit for participants!
Proceeds will go to fund the stabilization efforts on the schooner Evelina M. Goulart now in storage at the Essex Shipbuilding Museum.  
Why is the Evelina M. Goulart important?
The Evelina M Goulart is a 90' schooner that is displayed on land at the shipyard of the Essex Shipbuilding Museum. She is the Museum's largest and one of its most important artifacts. For centuries Essex shipwrights did not build vessels from drawings. But rather, construction knowledge and building techniques were passed down by word-of-mouth through the generations.
The Evelina M Goulart is the last of the seven remaining, historic Essex vessels that has not been restored or somehow modified. Because she has not been touched she is a treasure trove of construction techniques. Marine experts have studied her in order to better understand traditional shipbuilding and aid in the restoration of the schooners L.A. Dutton, Ernestina (ex. Effie M. Morrissey), as well as in the building of the schooners Thomas E. Lannon, Lewis H. Story, Fame, and Ardelle..
She has remained on land – a harsh environment for a boat - for close to 20 years. Currently she is in need of stabilization so she can continue to serve as a learning tool and benefit students, at all levels, of maritime history and naval architecture.
When:
Monday, July 9, 2018 6-8pm