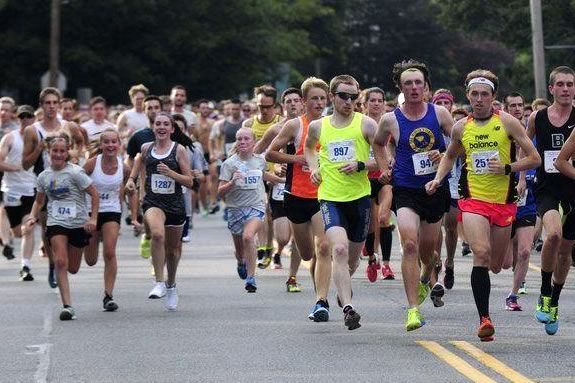 Since 1960, the Yankee Homecoming Road Race has been inviting runners and athletes of all ages to run through the heart of Newburyport. The tradition continues in 2021, this year we're offering only the 5K distance as we celebrate the return to racing. Join us for our 61st year of the Yankee Homecoming Road Race. Imagine a beautiful summer evening in the beautiful seaport town of Newburyport, MA. Thousands of runners will enjoy a breathtaking 5K (3.1 miles) course along the ocean, through the bustling downtown and charming New England neighborhoods. The Yankee Homecoming 5K is truly picture perfect. So it has been for decades.
The 60th Yankee Homecoming 5K and Ten Mile Road races will be held in Newburyport Massachusetts, starting and ending at the Newburyport High School. Race headquarters, registration, number pickup, and information will again be on the front lawn of the Newburyport High School. Please be sure to locate the exact start of your race when you arrive.
The 5K starts at 6:00 PM.
The 10 Mile starts at 6:10 PM.
Please refer to the Course Map for more information.
When:
Tuesday, August 3, 2021 6pm
Prices:
Register before July 1: $25
After July 1: $30
Race Day Registration: $35