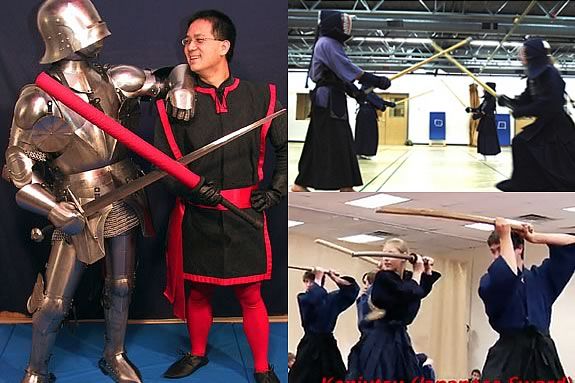 Manchester Public Library invites young adults to a Weapons demonstration by Gaurd Up! Family Swordsmanship Inc. On Manchester's  "half-day", kids will learn about sword history and techniques from medieval times through live demonstrations. Family Swordsmanship will share replicas of German long swords, Japanese swords, daggers and short swords. Participants will get to practice these sword fighting techniques against the Guard Up! staff using safe, practice swords.
Grades 6-12 welcome.
Space is limited. Register Soon.
Permission slip required.
This event will be held at the First Congregational Chapel, behind Sovereign Bank.
Gaurd Up! Family Swordsmanship Inc. offers instructional programs that range from Foil Fencing Classes, Historical Weapons, and Stage Combat Class. Our Wizards & Warriors™ programs include our Summer Day Camp for ages 6-15, our Summer Overnight Camp for ages 10-16 and our Birthday Parties and Special Events for all ages. These events offer kids, teens and adults the opportunity to live the adventure they have only ever seen in movies or read about in books.
Guard Up! Family Swordsmanship
When:
Wednesday, April 3, 2013 1-2:30pm