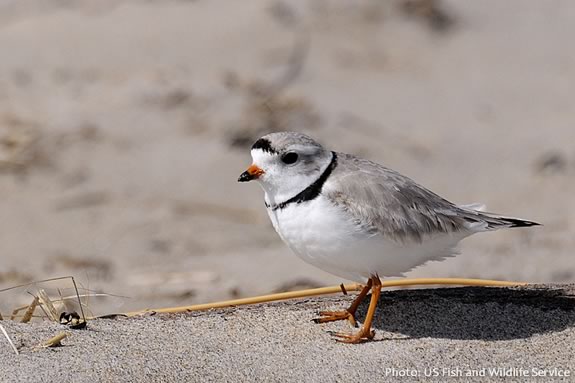 Parker River National Wildlife Refuge is calling on all youth, ages K to 12, to help spread the word about the importance of beaches to shorebirds by entering the Refuge's 3rd Annual Beach Sign Youth Art Contest. While most locals know about the annual beach closure at Parker River National Wildlife Refuge for nesting piping plovers, many visitors do not pay attention to the "Area Closed" signs posted at the boundaries.  
"We're hoping that colorful artwork created by local youth, with clever messages, will grab beachgoer's attention", says Nancy Pau, Wildlife Biologist at the refuge.  "These signs can also convey the reason behind the beach closure and what visitors can do to help birds and important habitats."
 "It is important for us to provide a safe space for these birds that are flying thousands of miles to Parker River to feed and rest," says Acting Refuge Manager Sharon Ware.
By using informational signs to educate visitors about shorebirds, the refuge aims to provide the best experience for beachgoers and shorebirds alike.  "This is a great opportunity for local kids to support wildlife conservation in their community", said Acting Refuge Manager, Sharon Ware.
Submissions for the 3rd Annual Beach Sign Youth Art Contest will be accepted until March 27th. Winning artwork will be chosen from five age categories, which will then be made into signs displayed on refuge beach.  Each winner will get prizes.  A grand prize winner will also be chosen and give the opportunity to help the refuge biologist conduct a plover survey on the closed refuge beach.
Contest winners will be announced at the refuge's Earth Day Celebration on Saturday, April 18th, 2020 - located at Refuge Headquarters.
Those interested in the contests are encouraged to review the full contest guidelines and criteria at https://www.fws.gov/refuge/parker_river/ or call 978.465.5753
Questions should be directed to Lauren Healy