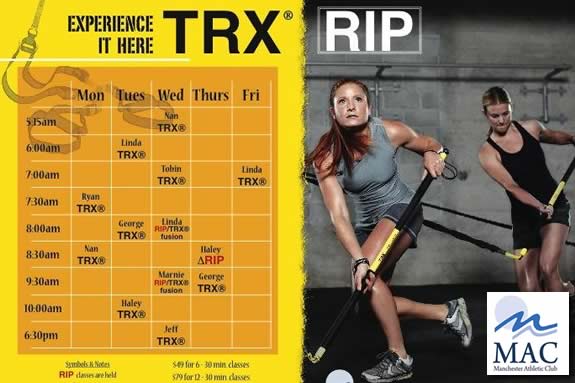 Manchester Athletic Club TRX Rip Training variable resistance exercise is a multi-faceted approach to strength and cardiovascular conditioning that challenges you in all three planes of motion every rep, every set, every workout. Equally adept as a rehab tool, a strength and conditioning tool, and a regenerative tool, the Rip Trainer is an exceptionally versatile tool for elite athletes, fitness enthusiasts, and beginners alike.
Sign up for one of the many TRX classes offered.
Rip Training utilizes a lever bar and resistance cord to provide a unique mix of rotation, core stability, control, power, strength, mobility, metabolic conditioning, balance and coordination challenges. TRX has developed a wide assortment of unique, leverage-variable resistance exercise movements, coaching cues, and programming and educational principles using the Rip Trainer, the collection of which comprises Rip Training.
The Rip Trainer allows users to engage in unlimited movements which, when performed properly, enhance fluidity and range of motion and decrease the risk of injury. Whether used for high speed striking movements or slow speed strength and stability exercises, the Rip Trainer is the perfect training tool for elite level athletes, fitness enthusiasts and even people wanting to exercise for the first time.
Call 978-526-8900 to sign up.