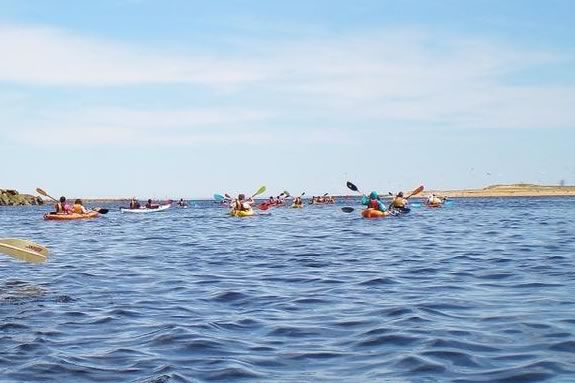 Join the fun of the second Annual Kayak and Paddle Board River Race.   Participants will launch at Cashman Park boat ramp off Merrimac Street. The contestants will paddle up River at low tide/slack tide around Ram Island, Carr Island, Deer Island and back to Cashman Park with the out going tide,  4.6 miles.
Race Rules:
Kayaks shall be propelled solely by means of double-ended paddles
All craft must have forward & aft buoyancy to maintain a neutral level if capsized
All paddlers must be able to swim
All entrants must wear a USCG Personal Flotation Device (PFD) with whistle at all times
Use of alcohol at this event is prohibited
Yankee Homecoming reserves the right, at any time, to:  Refuse to register any individual or boat; expel or disqualify any individual or boat for lack of required equipment, unsafe operation, and disregard for event rules or unsportsmanlike behavior.
All participants must fill out a registration form below to be eligible and submit online or print and bring with you the day of the event.
For more details, Contact Larry Wielgos at 978-462-6806 or
Need to rent a Kayak or Paddleboard contact Newbury Kayak and Canoe 978-465-0312  or Plum Island Kayak 978-462-5510
When:
Saturday, July 29, 2017 8:30-10am
Prices:
Pre-registration: 12-18 years $15 | 18 years and over $25
Day of Race: 12-18 years $25 | 18 years and over $30