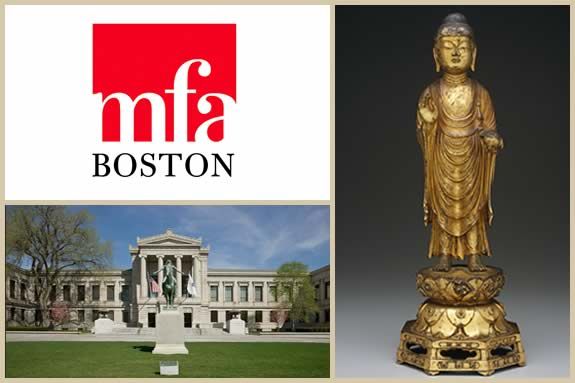 In celebration of the opening of the new Arts of Korea Gallery and Korean Buddhist Paintings exhibition at the Museum of Fine Arts, Boston (MFA), the Museum is hosting Korea Foundation Day on Friday, November 16, from 3 p.m. to 9:45 p.m.
Activities include tours of the Arts of Korea Gallery in Korean and English, a talk by artist Kang Ik-Joong, and musical performances by the percussion group Gong Myoung. These programs are free with Museum admission and children 17 and younger are free.
The MFA's Taste café will be featuring a variety of Korean dishes that day. Korea Foundation Day is sponsored by the Korea Foundation, which strives to broaden awareness and understanding of Korea and its people by enhancing goodwill and friendship throughout the global community. The Korea Foundation co-organized the event, and also has provided funding for internships at the MFA for three years related to research and conservation of works in the Museum's Korean collection. For additional information about the afternoon and evening event, please visit mfa.org/koreaday.
"Korea Foundation Day represents a unique opportunity for us to highlight the cultural achievements of the Korean people as well as unveil our new Arts of Korea Gallery and Buddhist paintings exhibition," said Malcolm Rogers, Ann and Graham Gund Director of the MFA. "It is a pleasure to be able to share the treasures of our renowned Korean collection with visitors on this special day and showcase the talents of Korean artists and musicians through a variety of presentations that will delight families."
"Korea Foundation Day provides a very special experience for both people of different backgrounds and Korean-Americans to better understand the essence of Korea's traditional and modern culture," notes Amb. Woosang Kim, President of the Korea Foundation. "This kind of community event helps to boost interest in Korean culture in general, and enables people to experience and appreciate Korea through firsthand activities."
Photo By:
Buddha of Medicine (Yaksa Yeorae)
8th century A.D.
Gilt bronze
Gift of Edward Jackson Holmes in memory of his Mother, Mrs. W. Scott Fitz
Photograph © Museum of Fine Arts, Boston
When:
Friday, November 16, 2012 from 3 p.m. to 9:45 p.m.