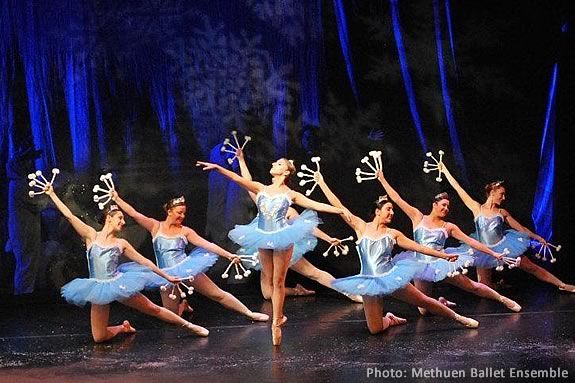 Long a traditional favorite, Methuen Ballet Ensemble brings the holiday classic, "The Nutcracker" to Firehouse Center for the Arts in Newburyport, Massachusetts just in time to kick off your holiday season! Join the cast for a gala reception which will be held in the main lobby of The Firehouse at 6 pm on November 30th, to be followed by the 7pm show!
Methuen Ballet Ensemble, an established ballet company under the artistic direction of Vanessa Voter Shaheen, has staged "The Nutcracker" for over twenty-five years.  All principal roles are performed by members of Methuen Ballet Ensemble, whose experience totals over 150 years of classical ballet training under Ms. Shaheen's tutelage!  Students of Voter's School of Dance, Gymnastics & Karate, established 62 years ago by Pam Voter, perform all other roles.  Dancers hail from Methuen, Lawrence, Haverhill, and N. Andover, MA, as well as Salem, Pelham, Windham, and Manchester, NH.
Each year, the production has become more elaborate with stunning visual effects and custom-designed costumes by a well-known Canadian designer.  All performances include a giant growing Christmas tree, a heavenly mist, and an abundance of snowfall. 
Come share in the magic of Methuen Ballet Ensemble's The Nutcracker and introduce your family to the joy and spectacle of this classic dance event!
When:
Gala Reception and Show: Saturday, November 28, 2015 6pm
Saturday, November 28, 2015 3pm
Sunday, November 29, 2015 3pm
Prices:
General Admission: $22
Evening General Admission: $24