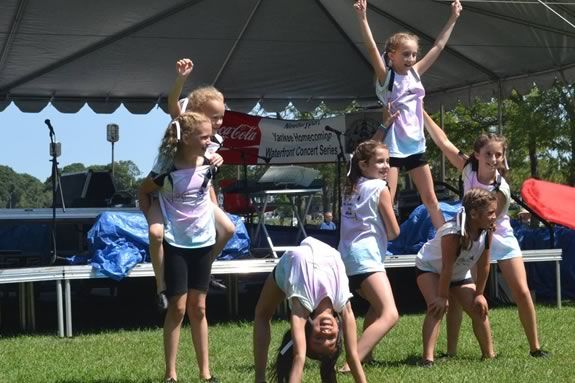 Showcasing the talents of kids of all ages. This is a non-competitive showcase of children's talent in Newburyport and the surrounding area. Children in grades 1 - 12, ages 6 - 18 who are residents or students in the Newburyport Schools and the immediate surrounding areas will be allowed to participate.
Participants may perform music, dance, poetry, acting, juggling, etc. as a soloist, duet, trio, etc. or small band. NO LIP SYNCING! They MUST provide a CD, and/or musical instruments, props, costumes.
The performer must provide a CD to be used during the showcase. All CD's are to be labeled with your name, Track number, and Name of the song. You may burn your own CD
Please pick up your CD after your Set is finished, at the Registration Table
If your child is performing more than (1) Act, please have CD for each Act
If you are using a musical instrument, such as a keyboard, you must provide your own equipment
Microphones and Sound are provided
There is no Lip Synching allowed
All performers will be assigned a time slot.
All performers are to sign in with a parent or guardian at the registration table located beside the stage in Waterfront Park between the hours of 10:00AM and 10:30AM.
All forms are due by Friday, July 28, 2017.
Late entrants will be accepted if time and slots are available on the performance day.
All participants must fill out a pre-registration form and have a parent signature.
For groups, all group members must fill out a form with a parent's signature.
Yankee Homecoming will provide a stage, full sound system, and publicity for the event. THERE IS NO FEE CHARGED and ALL PARTICIPANTS MUST HAVE A SIGNED PRE-REGISTRATION FORM FILLED OUT AND SUBMITTED PRIOR TO THE EVENT.
When:
Monday, July 29, 2019 11am-2pm