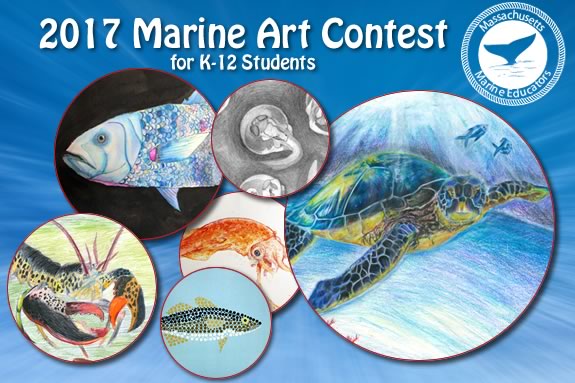 Science and Art collide for the 2017 Marine Art Contest hosted by the Massachusetts Marine Educators and Stellwagen Bank National Marine Sanctuary! Kids in grades K-12 are invited to submit entries in this year's contest themed 'Marine Biodiversity of Stellwagen Bank National Marine Sanctuary'.  Spread the word to teachers, homeschoolers, other students, and parents about this wonderful opportunity to learn and teach others with art!
Stellwagen Bank National Marine Sanctuary extends from just off the coast of Gloucester across the mouth of the Gulf of Massachusetts to Provincetown and out into the North Atlantic, and covers an area of roughly 842 square miles. It has a diverse population of marine mammals and fish - some permanent and some migratory.  It is a wonderful area of the ocean to study, and great way to understand how it impacts our lives - from what we find along the shore at the beach, to the behaviors one would witness on a whale watch, to the fish dinner that ends up on our plates.
Entries must stick to the theme and kids are encouraged to discover the wonder of Stellwagen Bank through research.  Once they have selected a theme for their art, they may use drawing, scientific  illustration, or computer graphics & photos to render their submission. All entries must be well-researched, especially if non-original content is used and sources should be documented. Information about the species depicted in the submission should be included.
Artwork representing species that cannot be found in Stellwagen Bank National Marine Sanctuary will be disqualified. A list of species that live on Stellwagen Bank appear on the rules and registration form.
Pieces will be judged by age group k-4, 5-8 and 9-12.  Scientific illustration and computer graphics will be judged in separate categories with no age delineation.  Judging will take into effect the creativity, factual accuracy, artistic presentation, neatness, and relevance to the theme.
Prizes will consist of cash, award certificates, tickets to the New England Aquarium and of course - bragging rights!
    Entry Deadline: April 28, 2017
    Contact by Phone Anne Smrcina at 781.545.8026 x. 204