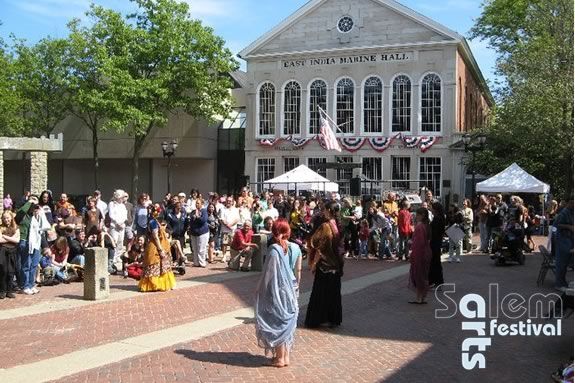 For three days, this annual family friendly art festival transforms downtown Salem into an opportunity for the arts community to showcase their talents. Now in its fifth year, the festival celebrates all the arts: painting, photography, sculpture, dance, music, writing, film, new media, performance, theater, poetry, culinary, etc. in a free city-wide arts festival. Programs for all ages!
The 2013 festival will consist of a gallery of juried artists' work in Old Town Hall, performance in an outdoor stage venue, indoor performances, a street fair, and a space open to the community to show and sell their work as well as actively participate in the arts.  Individuals are welcome to contribute at multiple venues and events.
Last year's festival was attended by thousands of residents and visitors, involved over 80 artists, a juried art show, outdoor performance at the East India Square Stage, interactive art presentations, and artists located in 20 downtown businesses.  People of all ages and backgrounds enjoyed viewing art, participating in art making and purchasing art.
The Salem Arts Festival is organized by Salem Main Streets and a collaboration of Salem organizations which provide support and jurors for the festival, including the Salem Arts Association, Salem State University Center for the Creative and Performing Arts, the Peabody Essex Museum and Salem Collective of Artists and Musicians.
Salem Arts Festival is currently looking for  volunteers to help with the organizing of the 2013 festival.  If you are interested contact Salem Main Streets, at salemartsfestival@gmail.com or (978)744-0004 x15.