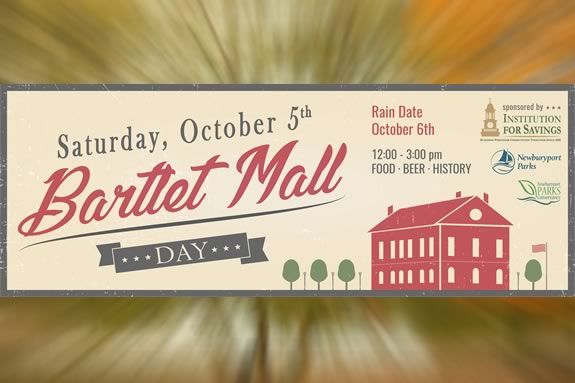 Learn about the history of the Barlet Mall, including information on Victorian era landscape architect Charles Eliot, the significance of the George Washington statue, the oldest functioning courthouse in the nation, how rope was made at the Mall, and a World War I memorial to a native son. Newburyport Preservation Trust, Historic New England, the Old Museum of Newbury, and others will be on hand to share their knowledge.
Come to the Bartlet Mall to enjoy a day of festivities celebrating the beauty and history of the Bartlet Mall
​Cash Beer Garden courtesy of the Newburyport Brewing Company
Graveyard tours at Old Burying Ground
Untapped History Tours: Alex Cain and Eric Getz, historical interpreters who will share their unique and unconventional stories of Newburyport. 
Historical interpretation by Preservation Trust, Museum of Old Newbury, and Custom House Maritime Museum ​with signage and photos
Courthouse tours
Historical signage and photos
Historical re-enactor's enlivening the history of the Mall
Hay rides ​and other fun!
Music by O'Carolan Etcetera, a North Shore trio of guitar, flute, and fiddle, performing music inspired by three centuries of instrumental music. The group brings to life the legacy of Turlough O'Carolan, the blind itinerant harpist whose instrumental compositions are among the most enduring and spirited in the Celtic tradition.
Also performing is Salt and Tar - Newburyport resident Rob McKeown, member of the Portermen chantey singers, and West Newbury's Mike Welch will perform old Sea Shanties and Tavern Songs​.
When:
Saturday, October 5, 2019 11am-2pm